"For the first time in my life -it felt like I wasn't going to jump and have to catch myself. I had someone by my side. Just as eager to take the leap.
Just as willing. To catch me after the fall."
Book Details
Title: Risky Play
Author: Rachel Van Dyken
Date Published: March 19, 2019
Number of Pages: 288 pages
Publisher: Skyscape
📚 Series:   Yes.
📚 Genre: Contemporary Romance.
📚 POV:  Dual POV.
📚 Cliffhanger: No.
⚠ Tags:  Soccer player hero. Virgin heiress heroine. One night stand.
Book Blurb from Goodreads
Even one-night stands deserve a second chance in New York Times bestselling author Rachel Van Dyken's novel of sporting desire.
What else can a virgin do when she's ditched at the altar? Seattle heiress Mackenzie Dupont is treating herself to a single-girl honeymoon in Mexico and a desire to relinquish her innocence to a gorgeous one-night stand. Fake names. True pleasure. But when she wakes up alone, Mackenzie realizes just how much anger is left in her broken heart.
Suffering a tragic personal loss, pro soccer player Slade Rodriguez has his reasons for vanishing without a goodbye. Right or wrong, he's blaming the beautiful and infuriating stranger he never wants to see again. They're both in for a shock when Mackenzie shows up as his new personal assistant. And they both have a lot to learn about each other. Because they share more than they could possibly know, including a common enemy who's playing his own games. And he's not afraid to get dirty.
Now there's only one way Mackenzie and Slade can win: to trust in each other and to stop hiding from the lies they've told, the secrets they've kept, the mistakes they've made, and the attraction that still burns between them.
About the Author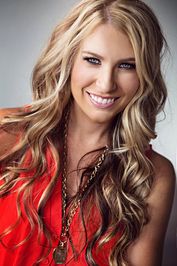 Rachel Van Dyken is the New York Times, Wall Street Journal, and USA Today Bestselling author of regency and contemporary romances.
Connect with the author! TWITTER: @RachVD
EMAIL ME: rachelvandykenauthor@gmail.com
My Review
I would like to say, first off, that I read the second book, Kickin' It, before this one. This means I already have an opinion on Slade, the male lead in this story. I have to admit this has affected my rating on this book.
I also read this on audio via Scribd, which tends to make me more lenient and less critical on my ratings. (I don't know why, though.)
Risky Play is about the story of Slade and Mack/Mackenzie. It starts off with Slade being an asshole, behaving irrationally, especially after 'taking' Mackenzie's virginity.
This story revolved in Slade trying to win Mackenzie back and having them in close proximity with each other after Mack becomes Slade's new personal assistant.
I actually enjoyed the romance and the banter in this story. RVD has proven once again that I am sucker for the romance formula that she uses in her novels.
Excited to read more of her works.
My Book Rating Breakdown
🌼 Blurb:⭐⭐⭐⭐☆
🌼 Main Character:⭐⭐⭐⭐☆
🌼 Significant Other: ⭐⭐⭐☆☆
🌼 Support Characters:⭐⭐⭐⭐☆
🌼 Writing Style:⭐⭐⭐⭐⭐
🌼 Character Development:⭐⭐⭐⭐⭐
🌼 Romance: ⭐⭐⭐⭐☆
🌼 Pacing: ⭐⭐⭐⭐⭐
🌼 Ending: ⭐⭐⭐⭐⭐
🌼 Unputdownability: ⭐⭐⭐⭐⭐
🌼 Book Cover:⭐⭐⭐⭐⭐
🌼 Audiobook Production: ⭐⭐⭐⭐☆
☁ FINAL VERDICT: 4.41/5 ☁
⭐⭐⭐⭐

♡ , Yna the Mood Reader
📚 Goodreads♡ Bookstagram ♡ Facebook ♡ Twitter 📚