"Silence does not mean yes. No can be thought and felt but never said. It can be screamed silently on the inside. It can be in the wordless stone of a clenched fist, fingernails digging into palm. Her lips sealed. Her eyes closed. His body just taking, never asking, never taught to question silence."
Book Details
Title: The Nowhere Girls
Author: Amy Reed
Date Published: October 10, 2017
Number of Pages: 408 pages
Publisher: Simon Pulse
📚 Series:  No.
📚 Genre: YA Contemporary Fiction.
📚 POV:  Multiple.
📚 Cliffhanger: No.
⚠ Content Warnings:  Rape. Rape culture. Homophobia. Transphobia. Suicidal thoughts. Assault. Racial discrimination. Ableism. Some stereotypical things, in my opinion.
⚠ Read if: you are a person. Every one should read this.
Book Blurb from Goodreads
Three misfits come together to avenge the rape of a fellow classmate and in the process trigger a change in the misogynist culture at their high school transforming the lives of everyone around them in this searing and timely story.
Who are the Nowhere Girls?
They're everygirl. But they start with just three:
Grace Salter is the new girl in town, whose family was run out of their former community after her southern Baptist preacher mom turned into a radical liberal after falling off a horse and bumping her head.
Rosina Suarez is the queer punk girl in a conservative Mexican immigrant family, who dreams of a life playing music instead of babysitting her gaggle of cousins and waitressing at her uncle's restaurant.
Erin Delillo is obsessed with two things: marine biology and Star Trek: The Next Generation, but they aren't enough to distract her from her suspicion that she may in fact be an android.
When Grace learns that Lucy Moynihan, the former occupant of her new home, was run out of town for having accused the popular guys at school of gang rape, she's incensed that Lucy never had justice. For their own personal reasons, Rosina and Erin feel equally deeply about Lucy's tragedy, so they form an anonymous group of girls at Prescott High to resist the sexist culture at their school, which includes boycotting sex of any kind with the male students.
Told in alternating perspectives, this groundbreaking novel is an indictment of rape culture and explores with bold honesty the deepest questions about teen girls and sexuality.
About the Author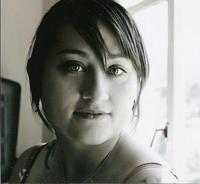 Amy Reed was born and raised in and around Seattle, where she attended a total of eight schools by the time she was eighteen. Constant moving taught her to be restless and being an only child made her imagination do funny things. After a brief stint at Reed College (no relation), she moved to San Francisco and spent the next several years serving coffee and getting into trouble. She eventually graduated from film school, promptly decided she wanted nothing to do with filmmaking, returned to her original and impractical love of writing, and earned her MFA from New College of California. Her short work has been published in journals such as Kitchen Sink, Contrary, and Fiction. Amy currently lives in Oakland with her husband and two cats, and has accepted that Northern California has replaced the Pacific Northwest as her home. She is no longer restless. Find out more at amyreedfiction.com.
My Review
Weeks after reading this book, I still find myself struggling to figure out what to say to express how much I love it and how much I want everyone to read this.
I am thankful for books like this, and real life events like this, where women stand up for each other. At the same time, this book made me so frustrated with anger, knowing that situations like this do exist all over the world.
The Nowhere Girls showed what it feels like for many different kinds of women to deal with and fight against the vile things that have been done to them. It tells the journey of carrying on, of being extremely brave, of helping others, and of loving one's self.
At times, this book felt like it way too much. The author has a way with words that can awaken the hurt, anger, and despair I'm sure all women feel inside.
This book also has diverse characters, LGBTQ+ representation, discussions about faith and religion, feminism, cultural differences, parent-child relationships, a main character with Asperger's, among others. I am unsure about the accuracy in the portrayal of each diverse character. It did not feel like it was overkill or trying hard to me, but please let me know if I'm wrong.
I'm trying to think of the perfect words to describe this book, but let me end with this. We need more books like this. Please read this book if you haven't yet. This is a very beautiful read and no one should miss this masterpiece.
My Book Rating Breakdown
🌼 Blurb:⭐⭐⭐⭐⭐
🌼 Main Characters: ⭐⭐⭐⭐⭐
🌼 Support Characters:⭐⭐⭐⭐⭐
🌼 Writing Style:⭐⭐⭐⭐⭐
🌼 Character Development:⭐⭐⭐⭐⭐
🌼 Thrill Factor: ⭐⭐⭐⭐⭐
🌼 Romance: ⭐⭐⭐⭐☆
🌼 Pacing: ⭐⭐⭐⭐⭐
🌼 Ending: ⭐⭐⭐⭐☆
🌼 Unputdownability: ⭐⭐⭐⭐⭐
🌼 Book Cover:⭐⭐⭐⭐⭐
🌼 Audiobook Production: ⭐⭐⭐⭐⭐
☁ FINAL VERDICT: 4.83/5 ☁
⭐⭐⭐⭐⭐

What's a YA Contemporary book that you can recommend?
Tell me in the comments!
♡ , Yna the Mood Reader
📚 Goodreads♡ Bookstagram ♡ Facebook ♡ Twitter 📚