Much thanks to Acorn Publishing and Xpresso Book Tours for sending me a copy for review and for inviting me to be a part of this tour. This review is voluntary and opinions are fully my own. Also, all quotes are taken from the ARC and may or may not appear in the final published copy.
 Amazon|| Barnes & Noble || Apple Books || Kobo || Goodreads
Book Details
Title: Lost Girl: A Shelby Day Novel
Author: Holly Kammier
Date Published: January 5, 2020
Publisher: Acorn Publishing
📚 Series:  Maybe ??
📚 Genre: Thriller-Romance
📚 POV:  First person
📚 Cliffhanger: No
⚠ Read if: you loved watching Veronica Mars.
Book Blurb
AN APPALLING ACT OF VIOLENCE AND AN UNSOLVED DOUBLE MURDER.

SMALL-TOWN INVESTIGATIVE REPORTER, SHELBY DAY, IS DETERMINED TO HUNT A KILLER.

As her search draws closer to uncovering the twisted truth, she begins receiving ominous warnings to stay quiet and drop the story. The young journalist is in danger. Her cameraman and best friend, a person with his own secret past, says he wants to protect her. But Shelby is headstrong and dodging anything that could lead to love. She can't allow anyone to distract her as she fights for the two women who deserve justice.

She never expects along the way she'll have to stop and save herself.

Ticktock… If Shelby doesn't solve the crime soon, she'll become the killer's next victim.

"Lost Girl is a compulsive thrill-ride that reads as if it's been pulled straight from the headlines. Kammier's journalism background brings undeniable authenticity to a novel that has it all– a love story, a murder mystery, and a real-life introduction into the distinctive world of television news."
-CAROLINE MITCHELL, New York Times best-selling author

This book is for anyone who loves:
Young Adult love stories
Murder Mystery
Redemption
Books with journalism elements
Intended for a mature YA audience

Fans of Veronica Mars, In The Woods, and One Of Us Is Lying, will love this novel. 
About the Author
Website || Twitter || Goodreads || Facebook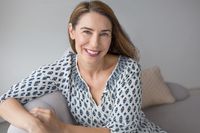 Holly Kammier is the international best-selling author of Kingston Court, Choosing Hope, and Lost Girl.

Lost Girl and Choosing Hope are cross-over novels to Kingston Court, with overlapping characters and locations.

Co-Founder of Acorn Publishing, the UCLA honors graduate is an accomplished writing coach and a former journalist who has worked everywhere from CNN in Washington, D.C. and KCOP-TV in Los Angeles, to the NBC affiliate in small-town Medford, Oregon.

The California native and mother of teenage boys, lives in San Diego, California close to her large family (she is one of eight siblings) and friends.
Review
There's something about small town murder mysteries that pull me in. As a reader, it is really hard for me to resist grabbing the opportunity to read books like this – mainly because of all the guessing and the excitement that it comes with.
Lost Girl talks about the story of investigative journalist Shelby Day, who left a comfortable rich girl life to prove herself and do what she loves to do. In this particular novel, she investigates a small town murder of two girls, who are actually very close to her age. The story has a darker atmosphere with lots of questions to answer along the way.
This book delivered a story with a morally grey lead character. I was confused whether to love her or to hate her, mainly because of the countless wrong decisions she made throughout her journey. Shelby can be really frustrating, and at times, the hating she felt towards other girls made me want to scream at her. Isn't it about time we quit on the girl-on-girl hate trope in books? 
Fortunately, the book did delivery a bunch of surprising twists and turns that suspense and mystery lovers will go crazy for. I didn't want to give up on the book because the "whodunnit" question still needs some answering.
Though flawed, Lost Girl is a quick read that mystery lovers can devour in a few hours!
My Book Rating Breakdown
🌼 Blurb:⭐⭐⭐☆☆
🌼 Main Character:⭐⭐⭐☆☆
🌼 Significant Other: ⭐⭐⭐☆☆
🌼 Support Characters:⭐⭐⭐☆☆
🌼 Writing Style:⭐⭐⭐⭐☆
🌼 Character Development:⭐⭐⭐☆☆
🌼 Romance: ⭐⭐⭐☆☆
🌼 Pacing: ⭐⭐⭐☆☆
🌼 Ending: ⭐⭐⭐☆☆
🌼 Unputdownability: ⭐⭐⭐☆☆
🌼 Book Cover:⭐⭐⭐⭐⭐
☁ FINAL VERDICT: 3.27/5 ☁
⭐⭐⭐
🌼🌼 GIVEAWAY 🌼🌼
Get a chance to win a $15 Amazon Gift Card!
Open for US Residents only. 1 Winner! Giveaway ends January 16th.
Click below to enter!
Follow Along The Blog Tour
📚 Goodreads♡ Bookstagram ♡ Facebook ♡ Twitter 📚