Much thanks to NetGalley & Common Deer Press for this complimentary copy. This review is voluntary and opinions are fully my own. Also, all quotes are taken from the ARC and may be different in the final published copy.
Book Details
Title: #NotReadyToDie
Author: Cate Carlyle
Date Published: October 7, 2019
Number of Pages: 200
Publisher: Common Deer Press
Read as an eARC via Kindle.
"Experiencing a death when you're so young changes you forever. You never quite get over it; you never get that innocence back, that feeling of invincibility, that belief that a long life is a foregone conclusion and yours to do with as you please."
📚 Series:  No.
📚 Genre: YA Realistic Fiction.
📚 POV:  First Person.
📚 Cliffhanger: No.
⚠ Content Warnings:  School Shooting. Graphic descriptions of injury.
⚠ Read if: you are looking for a book that tackles mass shootings, specifically in schools.
Disclosure: This post contains affiliate links, meaning I will earn a small commission, at no additional cost to you, when you click on the link and make a purchase.
Book Blurb from Goodreads
Ginny's life suddenly comes to a screeching halt one fateful Monday when a shooter shows up at Southwestern High School during first period. In lockdown with both the homeroom sub and her secret crush Owen badly wounded, Ginny finds herself teamed up with Kayla, one of the "barbies." Together, they must try to keep their classmates alive amid terror and pain. As the chaos continues, Ginny is plagued with questions. Has she judged Kayla too harshly? Will she ever have the chance to ask Own to prom? Will the fight she had with her mom before school been their last interaction ever? With the uncertainty of everyone making it out alive growing with every minute, there's only one thing Ginny knows for sure: no one is making it out unchanged. 
About the Author
Follow her Twitter. || Visit her website.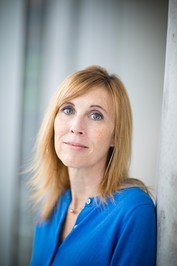 Cate Carlyle is an author and librarian living in Prospect, Nova Scotia. Cate began her career as a teacher and eventually transitioned to work in elementary school, academic and public libraries. Currently the Curriculum Resource Coordinator in the Faculty of Education Library at Mount Saint Vincent University, Cate also reviews children's and young adult books for CM Magazine: Canadian Review of Materials. Cate's first book, "Your Passport to International Librarianship" (ALA 2018) chronicled her international volunteer work and she has also had her fictional short stories published with one shortlisted by the Writers' Federation of Nova Scotia Nova Writes competition.
My Review
#NotReadyToDie is a book that talks about a mass shooting at a school. It is narrated through the point of view of the victims inside the classroom.
This book revolves around Ginny, who, to be honest, I hated for most of the book. She was prejudiced about most people and she was stereotyping everyone and giving them weird nicknames.
I think she was shallow and immature, and most of her thought processes during the shooting were too mundane for the sensitivity of the situation.
But, I have to admit, some teenagers are really wired this way. As someone who might be a decade older, I cannot really judge how simple or advance a mind can be.
Also, I'd like to think that people deal with trauma their own ways. She must be someone who brings her mind elsewhere instead of trying to absorb all the fear and terror in the situation. Or maybe that's just how I choose to see it.
Ginny has also slightly matured near the end of the book, so I have to give her points for that.
I have too agree to most reviews I have read that this book is too short to give weight to a mass shooting. The motive of the shooter was not even revealed in the book. There was not much described about the shooting itself. It was fully expressed through the mind of a single person.
The reason why I am bumping my rating up to a 4, is because I think this book, though not perfect, is a good way to open discussions about situations like this. It can open a way for parents, teachers, and children to talk about mass shootings and similar tragic events.
Overall, I think this is still a good read and deserves to be read by many young adults.
My Book Rating Breakdown
🌼 Blurb:⭐⭐⭐⭐☆
🌼 Main Character:⭐⭐⭐☆☆
🌼 Significant Other: N/A
🌼 Support Characters:⭐⭐⭐⭐⭐
🌼 Writing Style:⭐⭐⭐☆☆
🌼 Character Development:⭐⭐⭐⭐☆
🌼 Thrill Factor: ⭐⭐⭐☆☆
🌼 Romance: N/A
🌼 Pacing: ⭐⭐⭐⭐☆
🌼 Ending: ⭐⭐⭐☆☆
🌼 Unputdownability: ⭐⭐⭐☆☆
🌼 Book Cover:⭐⭐⭐☆☆
☁ FINAL VERDICT: 3.5/5 ☁
⭐⭐⭐⭐

Have you read a similarly themed book?
Tell me in the comments!
📚 Goodreads♡ Bookstagram ♡ Facebook ♡ Twitter 📚