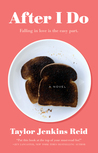 After I Do by Taylor Jenkins Reid
My rating: 5 of 5 stars
Review originally published on Goodreads – Dec. 9, 2018.
"Maybe it doesn't matter if you need someone during the everyday moments of your life. Maybe what matters is that when you need someone, they are the one you need. Maybe needing someone isn't about not being able to do it without them. Maybe needing someone is about it being easier if they are by your side."
This is my third TJR read and I am still extremely satisfied. This one is a book worth devouring. From the blurb itself, I was intrigued. I thought I would be reading something full of angst and drama. But it actually was very light and easy to read.
I love how the story was laid out. I love how there was a great family element. I love how realistic the characters' reactions and choices were.
This book captured my heart. I really am now a fan of TJR.
☁ THE CRITERIA ☁
🌻 Blurb:⭐⭐⭐⭐⭐
🌻 Hero:⭐⭐⭐⭐⭐
🌻 Heroine:⭐⭐⭐⭐
🌻 Support Characters:⭐⭐⭐⭐
🌻 Writing Style:⭐⭐⭐⭐⭐
🌻 Character Development:⭐⭐⭐⭐⭐
🌻 Romance:⭐⭐⭐⭐
🌻 Pacing:⭐⭐⭐⭐⭐
🌻 Ending:⭐⭐⭐⭐⭐
🌻 Page Turner:⭐⭐⭐⭐⭐
🌻 Book Cover:⭐⭐⭐⭐
☁FINAL VERDICT: 4.72/5 ☁
Other quotes I liked:
"Just because you can live without someone doesn't mean you want to."
xx
"Why do we do this? Why do we undervalue things when we have them? Why is it only on the verge of losing something that we see how much we need it?"
xx
"Your love life should bring you love. If it doesn't, no matter how hard you try, if you are honest and fair and good, and you decide it's over and you need to go find love somewhere else, then…what more can the world ask of you?"
xx
"I know that I can do this without you. I've learned that this past year. But I just miss you right now. I just want you near me. You bring out the best in me. And I could use the best of me right now."